Iran Bus Tickets
Bus travel is an exciting, convenient and relatively cheap means of transportation, especially for those tourists who have a lot of spots on their itinerary. Buses are the closest type of transport to one's own car. There are usually many stops on the way and more frequent departures than any trains and airplanes. The great variety of operators is another advantage of bus services over other transports. You can choose between different types of buses, different departure times and hundreds of destinations. This latter feature might be the biggest perk of bus services, especially in a country like Iran with a great number of rural attractions. You will come across the amazing diversity of destinations while buying Iran bus tickets. Buses are very popular in Iran. Considering its low price and high availability, buses are the first choice of transportation for many people who use Iran bus booking services online. During national holidays and summer vacations, finding an empty seat on Iranian buses could be challenging. Bus tickets have different prices based on the type of the bus and your destination in Iran. Booking bus tickets in Iran is fairly straightforward. You can either refer to a bus terminal and any official branches of bus operators in person, or you can book a bus ticket online on any of the official Iranian booking websites. Seirosafar, Royal Safar and Hamsafar are the most famous bus operators in Iran. You can find all the information regarding these operators and other Iran bus services online; information such as Iran bus timetable, list of the possible trips and available bus services and any other detail about the type of the bus and its included features. However, when everything (checking Iran bus schedule, filling out the information form and etc.) is settled and you are ready to pay for your ticket, there arises a problem. In order to pay for your ticket, you need to have an Iranian bank account and a valid debit card. Global International Debit Cards such as Visa and MasterCard don't work in Iran due to American sanctions on Iran's banking system. This poses a major problem for thousands of tourists who have to carry a lot of cash with them all the time and cannot use online services. To tackle the issue, our group at SevenHostels has come up with a system that eliminates all obstacles mentioned above. By referring to the homepage of our website, not only can you buy tickets for Iran buses, but also for Iran train tickets and Iran flight tickets. All you need to do is to enter your general information and choose the date of your departure. Next you will receive a payment request on your email and as soon as you complete this last stage you will get the ticket in PDF format.
Tehran to Isfahan Bus
Isfahan is the most visited city in Iran when it comes to city sightseeing tours. Thus, it is quite natural that Tehran to Isfahan buses should be among the busiest services in Iran's transportation system. Due to the high passenger traffic of Tehran-Isfahan route, bus services are available in most of the terminals in Tehran including Western Bus Terminal of Tehran, Beyhaghi Bus Terminal and Tehran South Terminal. There are some important factors to consider however. First it is the issue of bus timetable. Tehran to Isfahan buses from Beyhaghi Bus Terminal are usually due in the evening while in Western and South Terminal you have a much better chance of finding a ticket in the morning or at noon. The other thing to consider is the location of terminals in Tehran. Each of the bus terminals in the city lie in one corner of its massive area. Therefore, it is best to refer to the nearest one to your residence. If your hotel is in the west of Tehran, your ideal choice is of course Western (Azadi) Terminal. This is the largest bus terminal in the capital and you can find buses from Tehran to Isfahan almost at any time you want. South Terminal lies in Tehran down town and as with the Western Terminal, there are many daily buses from Tehran to Isfahan. These buses might stay a bit longer in the station before leaving Tehran. Eastern (Beyhaghi)Terminal is ideal for people who want to leave Tehran late in the evening. In the same way, bus services from Isfahan to Tehran boast a heavy passenger traffic. Kaveh and Sofeh are the main bus terminals in Isfahan with daily departures to the capital. The same regulations that we previously touched upon also apply to Isfahan to Tehran buses.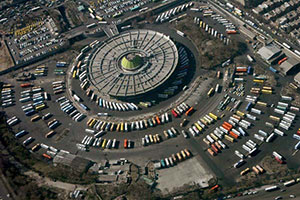 Tehran to Shiraz
Shiraz is another prime destination for Iran tours. Ancient historic sites such as Persepolis and Necropolis, a wonderful collection of city sightseeing spots and many natural attractions have secured Shiraz's place in the top five tourist destinations in Iran. As with Isfahan and other major cities, most of the foreign tourists reach Shiraz via Tehran. There are Tehran to Shiraz buses from all the major terminals in the capital including the South Terminal. Buses from Tehran to Shiraz take about 11 hours to reach their destination, so the trip is considered a long journey. A few of the buses have a couple of stops (stations) on their way from Tehran to Shiraz. If your destination is a spot along the route of travel, be sure to find the right bus. Your journey back to Tehran is equally simple. There are four bus terminals in Shiraz and departures towards Tehran are due on a daily basis. Find a date and time that best suits your schedule and make the online reservation.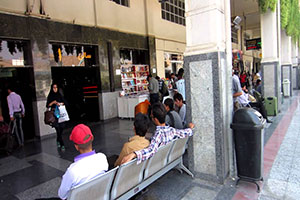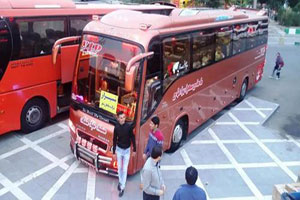 Shiraz to Yazd Buses
Yazd is a favorite of desert tours and city sightseeing tours and it is a constant presence on the schedule of bus operators in Iran. The busiest departures to Yazd are from Tehran, Shiraz and Isfahan. You will find most of Shiraz to Yazd buses in Karandish Bus Terminal, the largest terminal in the city. A bus journey from Shiraz to Yazd takes about 6 hours and the view you get is that of Iran's beautiful central deserts. Once you reach Yazd, the bus will take you to Yazd Passenger Terminal which is only 10 km away from the city center.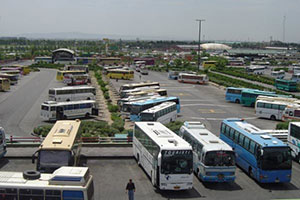 Isfahan to Yazd Bus
Isfahan to Yazd is another busy route for Iran's bus operators. Daily departures are available from all the major terminals in Isfahan including Sofeh Bus Terminal, Kaveh Bus Terminal and Terminal J. It is a fairly short trip from Isfahan to Yazd (about 4 hours). Buses from Yazd to Isfahan are also very popular. Most of the departures from Yazd to major cities including buses from Yazd to Isfahan leave the city from Yazd Passenger Terminal or Shahrdari Terminal.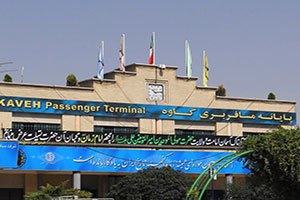 Isfahan to Shiraz Bus
The last intercity transportation we will introduce in this piece are the bus services from Isfahan to Shiraz. There is more than a dozen of daily departures from Isfahan's Sofeh Bus Terminal and Kaveh Bus Terminal to Shiraz. Given the great diversity of bus operators, you have many options of buses and the level of service you prefer. Bus routes from Shiraz to Isfahan are equally busy. Almost all of departures are from Shiraz's Karandish Terminal. The distance from Shiraz to Isfahan is about 489 km, meaning that it will take you around six hours to reach Isfahan by bus.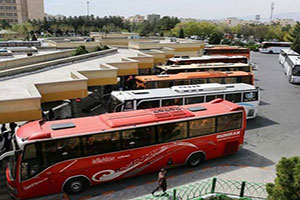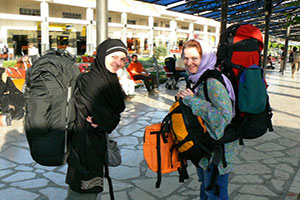 Iran VIP Bus
As stated above, there are different classes of buses available in Iran's road transportation system. The most popular type of buses in Iran are known as VIP buses. The reason these buses are deemed fit to carry the name VIP is that they include a set of features absent in regular buses. First of all, these buses are modern with everything expected from a topnotch transport including comfy seats, excellent air conditioning and minimum motor noise. The seats are arranged in a way that in each row you have two seats together and an individual seat. This arrangement provides the passengers with more space and also give them the option to choose double or solo seats. Another thing about the seats is that they are recliners and all are equipped with leg and foot rests. The latter feature is a life saver in long journeys. Moreover, usually a box containing small snacks such as biscuits, cakes and chocolate is distributed among passengers and you can ask for free drinking water. The crew of the VIP buses in Iran are very pleasant. They will help you with your luggage and will make your journey more fun by playing lots of delightful tunes.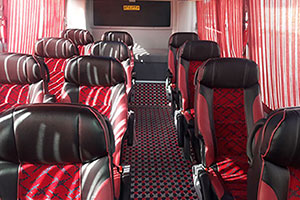 2/21/2018 3:55:22 PM